BBQG Quilt Show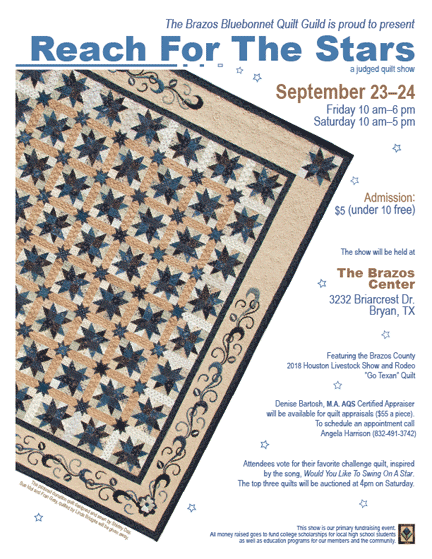 This show is our primary fund raising event. All money raised goes to fund college scholarships for local high school students as well as education programs for our members and the community.

Please note: Houston Livestock Show and Rodeo releases their rules the first of December, each year.
As soon as we receive an updated copy, it is reviewed to ensure our winning quilt complies with these rules.
Quilt Appraisals:
Denise Bartosh, M.A. AQS Certified Appraiser will be available for quilt appraisals! The fee will be $55 per quilt. Please call Angela Harrison (832-491-3742) to schedule an appointment with her.

Important Dates:

July 2: Show Registration opens at 12pm (midnight)
note: a quilt is not registered until entry fee is received!

August 12: Show Registration closes at 12pm (midnight)
or when 140 quilts have been registered
- - - - - - - - - - - - BBQG Member Only Information Below: - - - - - - - - - - - -
2017 BBQG Commitee Chairpersons
Committee:
Chairperson:
Quilt Show:
Judy Beskow
Publicity:
Debbie Ginn
Donation Quilt:
JoAnn Williams
Quilt Challenge:
Linda Winder
Hospitality:
Sue Ryan
Ribbon Committee
Judy Beskow
Judges & Awards:
Connie Silber
Quilt Appraisals:
Angela Harrison
Quilt Receiving & Dispersing:
Jane Crouse
Quilt Registration:
Judy Beskow
Setup & Hanging of Quilts:
JoAnn Williams
Show Pin & Programs:
Christine Deppe
Vendors:
Debbie Brooks
Bluebonnet Boutique:
Theresa Morrison
Basket Blitz:
Kimberly DeBona
White Elephant Shop:
Sue Idol
Window Display:
Debbie Brooks
History:
Carol Willson
It's "Basket Blitz" time again:
Donated baskets containing various themed items are displayed until the end of the quilt show. In exchange for a cash donation to our scholarship fund, tickets are received and placed into a sealed container located with each basket. At the end of the show a lucky winner is drawn!

This is a great fundraiser for the guild and we need a lot of baskets to make it successful! Baskets can be quilt themed, but do not need to be – not everyone is a quilter! Some other ideas include various colleges, fishing, football or other specific sports, specific movies or books, night-out, date night or babysitter basket.

We are also making our own "jelly rolls" to be placed in baskets. Consider donating a 2-1/2" wide fabric strip, from various fabric pieces, salvage to salvage to be included in these jelly rolls.

Or, consider donating fat quarters that will be combinerd and placed into various baskets.

Help make this a success!
For more information please contact Kimberly DeBona.


Will Work For Food:
It's time for "Quilters' Kitchen." As in the past, we need food donations to serve the show volunteers & vendors.
A sign up sheet will be passed at upcoming meetings – please be thinking of a dish to share, bottled water to bring, a crock pot of something, etc. Or contact Sue Ryan


White Elephant Table:
We will be selling almost anything – fabric, patterns, books, and notions. Sewing & quilting tools are good also. I will be packaging & pricing things as I receive them. I am more than happy to come and pick your donated items up even. Just call me! Thanks for your help! Sue Idol